As the wedding season approaches, couples and event planners alike seek venues that exude both elegance and charm. If you're envisioning a celebration that captures the timeless beauty of coastal living, look no further than Hampton Tents. In this blog, we'll explore how Hampton Tents can transform your wedding into a magical affair, and why Event Marquees is your go-to source for all the essential equipment to create a captivating atmosphere. From the ever-popular tiffany chairs and enchanting festoon lights to round or trestle tables and wooden flooring, let's dive into the world of Hampton Tents and how they can make your dream wedding a reality.
Elegance Beyond Compare: The Essence of Hampton Tents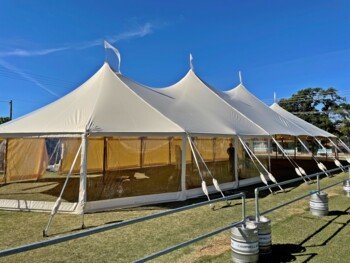 Hampton Tents stand as a true embodiment of coastal sophistication. With their clean lines, soft hues, and relaxed yet refined design, these tents effortlessly create an atmosphere of timeless elegance. Imagine exchanging your vows under the soft glow of twinkling festoon lights, surrounded by the sheer romance of a Hampton Tent. Whether your wedding vision leans towards classic romance or contemporary chic, these tents provide a canvas that adapts to your style, adding an extra layer of allure to your special day.
Event Marquees: Your One-Stop Destination for Wedding Excellence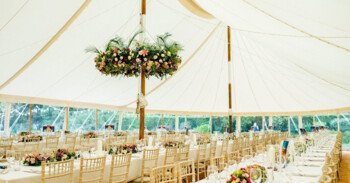 With the wedding season around the corner, Event Marquees understands the importance of having the perfect setting for your big day. Our extensive collection of equipment ensures that every detail is taken care of, leaving you free to focus on making memories. From comfortable round or trestle tables where your loved ones gather to the iconic tiffany chairs that add a touch of luxury to your seating arrangements, our offerings are designed to elevate your wedding to new heights.
Create Magic with Festoon Lights and Wooden Flooring
Festoon lights are the stuff of dreams, casting a gentle glow that enhances the ambience of any space. In your Hampton Tent, they transform the ordinary into the extraordinary, adding a touch of whimsy and enchantment. For those who appreciate the finer details, our wooden flooring option is the perfect finishing touch. It not only provides a stable surface for dancing and celebrating but also enhances the overall aesthetic, turning your tent into a venue that is both beautiful and functional.
As you prepare for your upcoming wedding, consider the allure of Hampton Tents – a perfect blend of coastal charm and timeless sophistication. With Event Marquees at your side, your vision can become a reality, as we provide the essential equipment that sets the stage for your dream celebration. From elegant seating options to captivating festoon lights and everything in between, our offerings ensure that your wedding leaves an indelible mark on both your hearts and memories. Contact us today and embark on a journey to transform your wedding into an enchanting affair that will be cherished for a lifetime.