Available from 10m wide to 20m wide, our trade marquees which are unique to Event Marquees are available for both short term and also long term hire. The strong & sturdy frames allow for the structures remain on site for months at a time.
Suitable for any project, scenario or event, this expansive marque structure is adaptable to meet your requirements.
Impressive in its size, its appearance and its versatility, it is a cost-effective solution and is available from a short term to long term hire.
A MARQUEE FIT FOR ANY OCCASION
Our new marquee is appropriate for and adaptable to any situation.
Perhaps you need a temporary or semi-permanent solution for:
Establishing a new warehouse or increasing the size of an existing one
Retail purposes e.g., pop-up store
Interim or long-term storage facility
Car park covering
Industrial usage
A temporary office
Space for workshops
The list goes on.
ABOUT OUR BRAND-NEW TRADE MARQUEES
Available instantly – a marquee can be installed Australia wide within three weeks.
Promptly and professionally installed – with a build time of three days, Event Marquees will work around the clock to ensure that your structure is delivered and installed as quickly as possible.
Cost-effective - renting a new space usually results in hassle and great expense whereas a marquee solution is neither of those.
100% weatherproof – and resilient to all weather types.
Flexible hire –this marquee is available for both short and long term. The hire period can be adjusted if / when your requirements change.
Any surface – can be safely set up on any surface including grass, tiles, carparks
Marquee accessories – the full range of marquee and other hire accessories is available.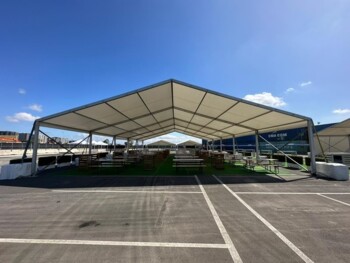 TRADE MARQUEE DETAILS, SPECS and ADD-ONS
Solid wall panels added for durability
High walls
Clear-span width: 10, 15 and 20 metres
Side height: from 2.5 - 4 metres
Roof pitch: 18°
Bay distance: 3 or 5 metres
Main aluminium profiles: 3 – 4 millimetres
Covers, roofs and walls: Double coated PVC
We also offer flexible options including a curved roof, roller doors, entrance and exit doors (for staff).
These are just a handful of the available alternatives. Our friendly team can discuss the range with you.
WHO IS 'EVENT MARQUEES'?
Consider us your event specialist team.
As a leading supplier of marquee structures, we are exceptionally experienced in providing marquee structure solutions for all types of projects and events.
With over 20 years of experience in the business and more than 3000 events facilitated, we have seen it all! We pride ourselves on providing a reliable, friendly and professional service.
Offering high quality products at competitive prices and an extensive inventory of event furniture, our team is fully qualified, trustworthy and accessible.
Most importantly, we love what we do.
SIMPLY CONTACT US
And we can talk through your plans, your ideas and your requirements.
We look forward to working with you.