Our white picket fence is not only an excellent choice for events like weddings, outdoor parties, or festivals, but it can also be a classic addition to your home. If you are considering adding a white picket fence to your event, here are some benefits of purchasing or hiring one from Event Marquees: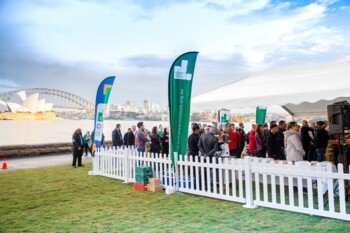 Hiring a White Picket Fence from us features:
Cost-effective: Hiring a white picket fence for a short period can be a cost-effective option. This is especially true if you are only using it for a one-time event.
Easy Installation: Hiring a white picket fence from us means that you don't have to worry about installation and removal. We will take care of everything, which makes it a hassle-free option for you.
Versatile: White picket fences can be used for a variety of events, including weddings, parties, or festivals. They can create an ideal space of any size and shape adding a charming atmosphere and enhancing the overall ambiance of your event.
Provides Safety: White picket fences can also provide a safe and secure space for children and pets to play. This is especially important if you are hosting an event that involves a lot of people.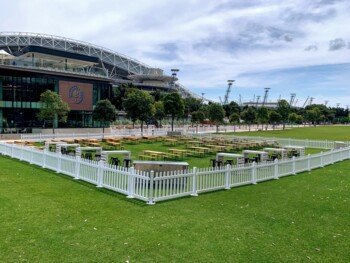 If you buy your White Picket Fence panel from Event Marquees:
It comes with 1x bollard
It is delivered to your door
Great price: Fantastic return on the original investment
Security and Privacy: Picket fences have proofed to serve well as a crowd guidance, space dividers, or by creating VIP areas, providing privacy and security for the guests not only at your event but your home too.
Stacks when stored (takes up minimal space)
Durable finish that maintains "as new" look: Picket fences are made of high-quality materials, which can withstand various weather conditions and last for many years.
Easy to replace parts or order extra stock
Low maintenance: White picket fences are very easy to maintain. You can clean them with soap and water to keep them looking clean and as new.
Customizable: You can choose a white picket fence that suits the theme of your event, making it a perfect backdrop. You can also select design of the fence according to your preferences. We offer 2 types of PVC Picket Fencing.
Types of Picket fence for sale:
Event Marquees offers two types of PVC picket fence for sale that are custom made. Classic Picket fence & Horizontal Boundary fence. It features linear white horizontal panels, teamed with broader fence posts.

We have sourced only the highest quality picket fence panels & bollards so it looks amazing on delivery and for years and years to come.
Our white picket fence is a practical and beautiful addition to your event so get in touch today with our professional team for your picket fence for sale quote and make your event even more special with a beautiful white picket fence from Event Marquees.