The holiday season is upon us, and what better way to celebrate than by transforming your workplace into a festive wonderland for an unforgettable X-Mas party? With the help of Event Marquees, you can create a magical atmosphere that will leave your colleagues and guests in awe. In this guide, we'll take you through the steps to host a memorable X-Mas party, complete with marquees, picket fencing, tables, chairs, and more.
Step 1: Set the Stage with Marquees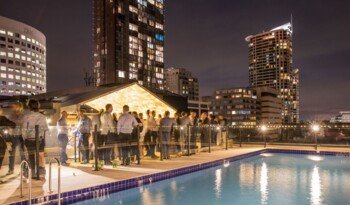 One of the key elements of your X-Mas party transformation is the marquee. Marquees provide a versatile and weather-proof space for your event. Choose from a range of sizes and styles to suit your needs. Event Marquees offers everything from elegant clear-span marquees to stylish pavilion marquees. Imagine hosting your X-Mas party under a sparkling clear roof with the twinkling lights of the holiday season all around you.
Step 2: Create a Charming Entrance with Picket Fencing
Set the tone for your X-Mas party right from the entrance. Picket fencing not only adds a touch of charm but also helps define the event area. It's perfect for creating walkways, guiding guests, and adding a festive touch to your workplace transformation.
Step 3: Choose the Perfect Tables and Chairs
No X-Mas party is complete without comfortable seating and elegant dining arrangements. Event Marquees offers a wide selection of tables and chairs to suit your style and preferences. From round tables for intimate gatherings to long trestle tables for feasting, you'll find the perfect match for your X-Mas party.
Step 4: Add Ambiance with Lighting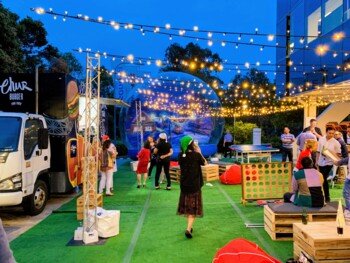 Transform your workplace into a winter wonderland by adding ambient lighting. Fairy lights, string lights, and chandeliers can instantly create a magical atmosphere, making your X-Mas party shine even brighter.
Step 5: Decorate to Impress
Now that you have the essentials in place, it's time to decorate! Let your creativity run wild with festive decorations. From centerpieces and table runners to holiday-themed decor, make your workplace truly come alive with the spirit of the season.
Step 6: Plan Fun Activities
Incorporate fun activities and games into your X-Mas party to keep everyone entertained. Consider a photo booth with holiday props, a Secret Santa gift exchange, or even a friendly competition with prizes to be won.
Step 7: Don't Forget the Food and Drinks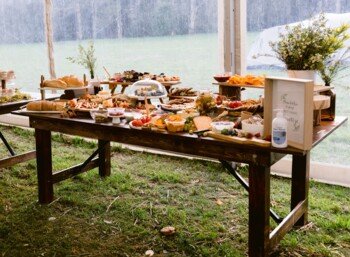 No X-Mas party is complete without delicious food and drinks. Arrange for catering or potluck-style dining to keep your guests satisfied. And don't forget to include a hot cocoa or mulled wine station to keep everyone warm and cozy.
Step 8: Capture the Memories
Hire a photographer or set up a DIY photo corner to capture the memories of your X-Mas party transformation. Encourage your guests to snap pictures and share their joyful moments on social media.
Step 9: Say Thank You
As the party comes to an end, take a moment to thank your colleagues and guests for joining in the festivities. Consider providing small party favors as a token of appreciation.
Transforming your workplace into a winter wonderland for an X-Mas party is a magical way to celebrate the holiday season. With Event Marquees' wide range of marquees, picket fencing, tables, chairs, and more, your transformation will be a success. So, let the festivities begin, and create memories that will last a lifetime at your X-Mas workplace transformation party!