Winter Events are amazing. Here are our top 5 tips to make your event Winter WOW!
Go All Clear Marquee and Shine.
Any time is a great time for an all clear marquee but in Winter they are amazing!
Did you know? Clear Marquees are a top Winter option as they hold in the sun's heat - making them ideal for a snug and comfy Winter event space.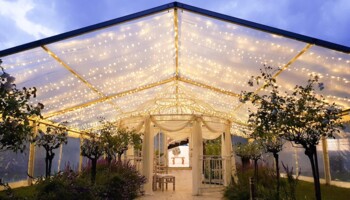 Winter is the ideal time to go big with your lighting like this example featuring;
Masses of roof fairy lights
Topiary fairy lights
Central chandelier
Festoon lights entrance
Event Marquees has a full range or marquee and outdoor lighting - so get in touch with your wish list.
Dual Zones to Impress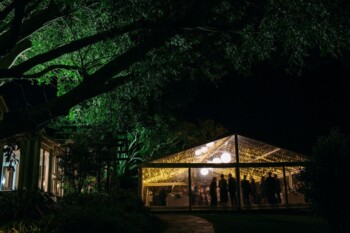 Winter is the perfect time to have a couple of zones with dual purpose.
Start off as a cosy welcoming space to warm up, divest of coats & jackets and mingle with the other guests as you enjoy a drink. Think beyond mulled wine and embrace the season with on trend Winter cocktails such as a Winter Margarita, Spiked cinamon chai lattes or Hot buttered bourbon.
Then utilize this space as a cosy lounge space for those wanting to sit and chat instead of dancing in the main marquee.
A great bar option for this is either our Illuminated Event Bar that is completely customisable or our Customised Curved bars that also light up! Bang on for Winter events.

Lighting Wow Moment
If you do go with two zones you might think about creating your own Vivid moment with your own turning on of the lights. We have seen this in action and it simply is AMAZING!!
Gather people at your marquee double door entrance then flick the switch to your beautiful marquee light display.
Vivid light festival in Sydney turns the lights on at 6pm every night - which creates the most epic wow.
Create a Striking Entrance

Might be an old saying "first impressions count" but it is still an on trend sentiment. And for your Winter Event it allows even more creativity with lights.
Create a clear entrance path with our new artificial hedge planter boxes then add in a sprinkling of fairy lights on the hedges for some Winter bling.
Then utilise our festoon lights over head to provide pretty lighting for the entrance. Event Marquees can not only provide the lights and power cords, but also stainless steel poles to allow this set-up. As well as, of course, our experienced team to set it up for you.
Top tip! Make sure you have a heater or two along your entrance. Your guests will love you for it!
Make it Cosy
Winter Events are the time to cosy in and make a night of it. Our gas heaters will heat up any space, and it's important to get the correct ratio of heaters, considering how the space will be used throughout the event. For example a sit-down dinner will require more heating. But get in touch with the helpful Event Marquees team - we have done thousands of events and know how to get the heater balance right.
The good news is that if it gets too hot from too much dancing fun - it's super easy to open up the marquee side a little to cool things down.
Outside Ideas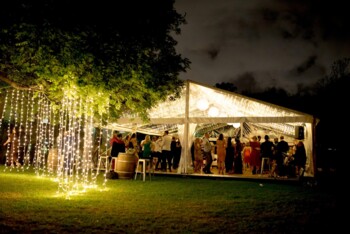 Don't forget about your outdoor space - with some extra bling it will really add to the overall event look, as well as lend itself to amazing photos.
Fairy Lights Waterfall
This looked exquisite and provided a natural segue between the indoors and out.
While it looks tricky - it's not. The clever Event Marquees utilised the Fairy lights at a new angle to achieve the striking waterfall effect. #event #inspo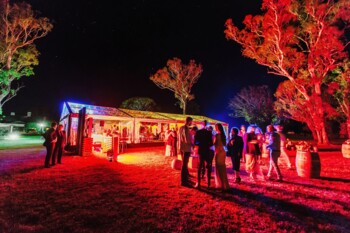 Parcan Display
This dramatic effect, made the most of the post sunset event start time. As the guests arrived they were greeted by this creative lighting display.
This look was achieved with our parcan light hire to make a dazzling red hue outside.
Wow wow wow.
Winter is a fantastic time to have your event. Get in touch with our helpful Event Marquees team.